Featured Item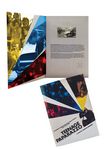 Video In Print Media Player For Custom P...
The perfect fusion of video, print, and sound. Incorporate high quality video content into any print collateral. Multiple screen sizes available. Up to 15 minutes of video content. Rechargeable batter...

SHIRTS HAPPEN
SHIRTS HAPPEN was established in 1989 to provide better customer service and a wider variety of screen printed and embroidered products. SHIRTS HAPPEN has expanded to offer not only screen printing and embroidery but also promotional products to schools, businesses, organizations and individuals.

Quickly and easily search our vast database of products for items to:
Improve traffic at trade shows
Motivate staff
Thank a customer
Increase safety awareness

Call Dave at (603)783-3300 for more information.